Care worker elves bring joy to customers at Christmas
Our team of care workers donned their elf costumes to raise awareness of dementia for the Alzheimer's Society and received as much joy as our customers did.  
Care work can be tough - but so rewarding!
Origianl article can be found on Bluebird Newcastle here.
Being a care worker can be tough but, as I witnessed on Elf Day last week, it can also impact you profoundly in a positive way.
Care work is a unique and honourable job that gives us a sense of purpose - something I know a lot of professionals and friends sometimes miss from their lives which then has an effect on their mental wellbeing.
This was evidenced when our team of care workers donned their elf costumes to raise awareness of dementia for the Alzheimer's Society and received as much joy as our customers did.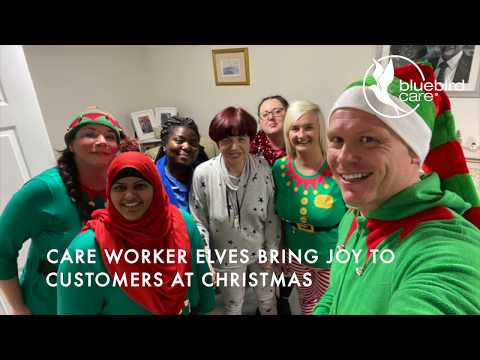 Supporting the Alzheimer's Society's National Elf Day

As a team we decided to support the Alzheimer's Society and their National Elf Day. We chose to spread Christmas joy to our home care customers through the gifts of music, companionship and tea hampers!
While I thought I knew what to expect, I under estimated the impact this would have on our customers, their families, our staff of care workers and on myself.
Special bonds made between care workers and customers
As a team at Bluebird Care South Tyneside and Newcastle we always strive to put our customers first and enable them to live safely and independently in the comfort of their own home. I regularly hear from customers and their families about the great work our care workers do each and every day and the difference we make to their lives.
However, seeing first hand the connections and bonds that are formed out in the community between our care staff and customer is truly humbling. The smiles that appear across the faces of our customers as well as our care workers is something that marks a true compassionate connection - mirroring the affection between our customers and their own loved ones.
This is the power of great and outstanding home care, the power to ensure that the customers is safe, the power to ensure that they feel loved and cared for, the power to support them to live with a smile on their face, in the comfort of their own home and their home comforts.
Back to Elf day…

We started off at 7 in the morning at our office in Gosforth loading presents into the car and heading out on the road. We picked up our care worker elves on the way and had a good old sing along 'Car Pool Karaoke' style. Watching the video back I don't think we will trouble any of the X- Factor contestants!
After visiting a couple of care customers in and around Newcastle, we head back to the office to to pick up a fresh group of Santa's little helpers which included my 4 year old daughter before making stops across South Tyneside.
It was very special to have the opportunity to share part of my day with my daughter and let her into the life of her Daddy's world at work, which she constantly asks about. Her understanding is that Daddy helps people, and she saw first hand the gratitude that was given to our care workers by our home care customers and families.
One of our customers even got his accordion out to help us with the tune for our singing, by gosh we needed it! Seeing the customers join in with the singing was very heart warming, and there were a few tears of joy shed as we saw our customers recollect the happy times of years gone by.
I could not live without my care staff and I would not be here without them
Home care customer, South Tyneside
I got very emotional I have to admit. To hear these words really moved me and everyone else in the room including the customers own daughter. I know that she had comfort in knowing that her Mother is being well looked after in her own home, and we are the next best thing to her being able to look after her mum herself.
This is exactly why I set up Bluebird Care in my home towns of Newcastle and South Tyneside.
I am truly proud of the work we do as a company and as care workers. I'm proud to know that we live up to our values and commitment to our customers to provide outstanding care at home.
The power of music for people living with Dementia and living alone
Music can have a number of benefits for people living with dementia such as reducing anxiety and depression. We dressed up as elves for the day to raise awareness of dementia while bringing joy to our customers and their carers.
Christmas is a time for families and giving. Many of our customers have family but some sadly do not have them close by or any family at all. Our staff are acutely aware of this and we look to support to tackle depression, loneliness and isolation in everyday service.
There are over 3.6 million people living alone in the UK and if we can bring a smile and make a difference to even just one, then that is one less person who is feeling less ignored, invisible or isolated.
On our Elf Day travels I heard first hand from our customers how our staff make this difference every day and that getting visits from their care workers means so much to them. This means the world to us.
How to find the right care for you or your relative
1. Find your local office
Bluebird Care delivers care from locally based offices, find yours to start your care journey today.
2. Get in touch with us
Fill in our call back form or give us a call to find out how we can help you.
3. Assessment
We'll come out to you to find out what you or your loved one needs to help stay independent at home.
4. Care team chosen & care starts
You'll be cared for by our specially trained team to support you to remain at home for as long as possible.