Our marketing manager Grace tells us all about this years Christmas #GiveAGift campaign!
My name is Grace and I am the marketing manager for Bluebird Care Dudley, Wyre Forest & Malvern Hills. For most people, the festive period is a time surrounded by family, friends, mulled wine, and mince pies! However, for some, the festive period can be extremely lonely. Many older people find this team of year isolating and this is ever more present across the past couple of years due to the pandemic. It was because of this that I had an idea to do a gift donation campaign in an effort to combat loneliness this time of year to show that, despite your circumstances, you are never alone when you are part of the Bluebird Care Family.

I began this campaign by first contacting local businesses through email and social media to explain the campaign and ask if they would like to donate a gift. The support that I got from local businesses was great and donations started coming in. I was also then contacted by Dudley based recruitment company, Pertemps. They explained to me that each year they took part in a campaign to benefit others, and this year they would love to support our #GiveAGift campaign. We agreed that they would approach their clients and ask for donations.
After the initial interest, I decided to try and gain some press surrounding the campaign to let the local community know what we were doing and offer a contact if people would like to support this campaign. We gained some local coverage and donations started to come through, which was fantastic!
I was also contacted by the Pertemps Dudley office saying that the Telford branch would also like to get involved. I set off collecting the gifts from local businesses and by the end of the collection date, we had so many donations that we would be able to give a gift to all 54 of our customers which was incredible!

Next, the wrapping began and I started to work with the team to decide which of our customers were best suited to each of the gifts which we had received. I also began to put together a plan for delivering the gifts.
I was extremely excited to be able to go out and spend some time with the customers and give them their gifts. With over 165 gifts wrapped and a delivery plan in place, both myself and the office team began taking gifts out to our customers. They were overjoyed! It really brought a smile to my face to see how happy they were with the gifts and how much they appreciated the time and effort that went into getting the gifts and wrapping these. Many of them could not believe that we had done this and continued to tell us how happy they were and how much they appreciated this. Mrs. G said…

"Thank you so much for all of the presents, they are all just so carefully chosen!"

While Mrs. W said...

"You have brought joy to two old folks, and you have made our day. Thank you so much."

Overall the entire campaign was a great success and I am so happy with the outcome. My aim was always to bring joy to our customers at this time of year and I am just so happy that I was able to provide gifts for every single one of our customers. All of the hard work paid off and I hope that the campaign will be bigger and better next year!
Please see below a video that I put together of the 2021 #GiveAGift campaign, I hope you enjoy watching it as much as I enjoyed making it!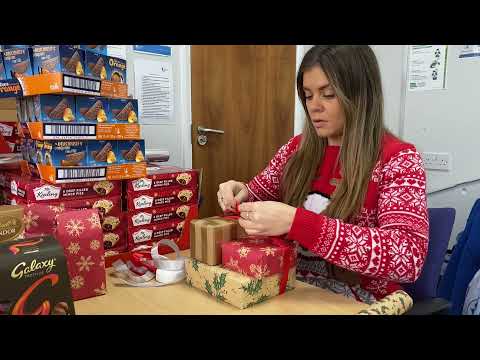 I would like to say a special thank you to everyone who donated the gifts:
Pertemps Dudley
Pertemps Telford
Mooch
The Cherry Wick Candle Company
The Botanical Barn
Scent from Dudley
Everyone who sent gift donations directly to the office
Finally, I would just like to say Merry Christmas and A Happy New Year to you all from everyone at Bluebird Care Dudley, Wyre Forest & Malvern Hills!