24-hour care at home
Round the clock care may be needed to support with different types of care needs.
What is 24/7 care?
24/7 care, or live-in care, is support that covers you throughout the morning, evening and night so that you are never left without the assistance you need.
By providing round-the-clock attention, you can be assured that you will receive consistent, top-tier professional care at all times.
Our dedicated team of live in carers are always available to support you, whether you require personal care in the morning, or if you need assistance accessing the toilet safely in the night.
With live-in care, you can receive 24-hour personalised support and care on your own terms and in the comfort of your own home in line with your chosen lifestyle. It's an excellent option for those who prefer to avoid care homes or supported living arrangements.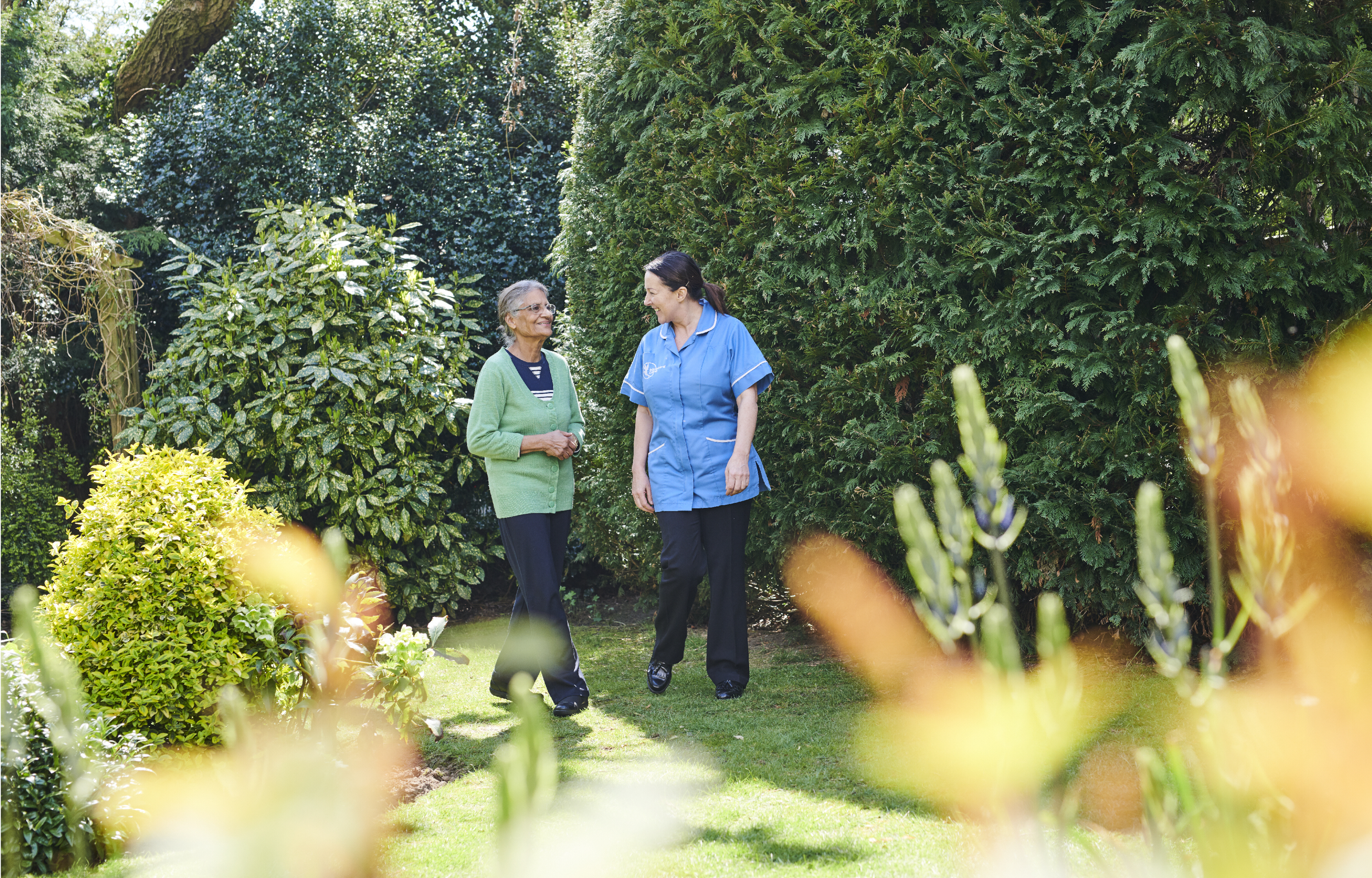 How does 24-hour live-in care work?
Round the clock support allows you to be supported with any activity at home to live independently within the comfort of your familiar surroundings. Our live in care service is designed to support you with:
Medication assistance as and when needed

Nursing care - as an alternative to nursing homes

Specialist care - including dementia care, palliative care

Respite care - to give you or your loved ones a break

Mobility assistance - including support with hoists, assisted transfers and other mobility aids

Companionship care - including support with your household chores

Specialist dementia care - our live in carers are trained to understand the complexities of dementia care
Our live-in care team collaborate with you and your family to determine the most fitting care that fulfils your specialist needs and inclinations. Crafting your unique support plan is a detailed process, ensuring complete customisation of your care, regardless of your health condition.
For complex care needs requiring 24-hour assistance, our comprehensive service includes up to two live-in carers, and a dedicated visiting team from your local Bluebird Care Birmingham West office.
Our visiting care team will assume care responsibility during the live-in carers' breaks, and cater for your overnight support needs. Our service ensures your wellbeing with holistic coverage, and our team of professionals treat you with utmost compassion and respect.
So, if your loved one has advanced dementia and needs constant care during the day and wakes throughout the night, we will ensure we have the very best team of live-in and visiting carers to support them, who will get to know them and their routines and be able to provide care tailored specifically for them with the right level of emotional support.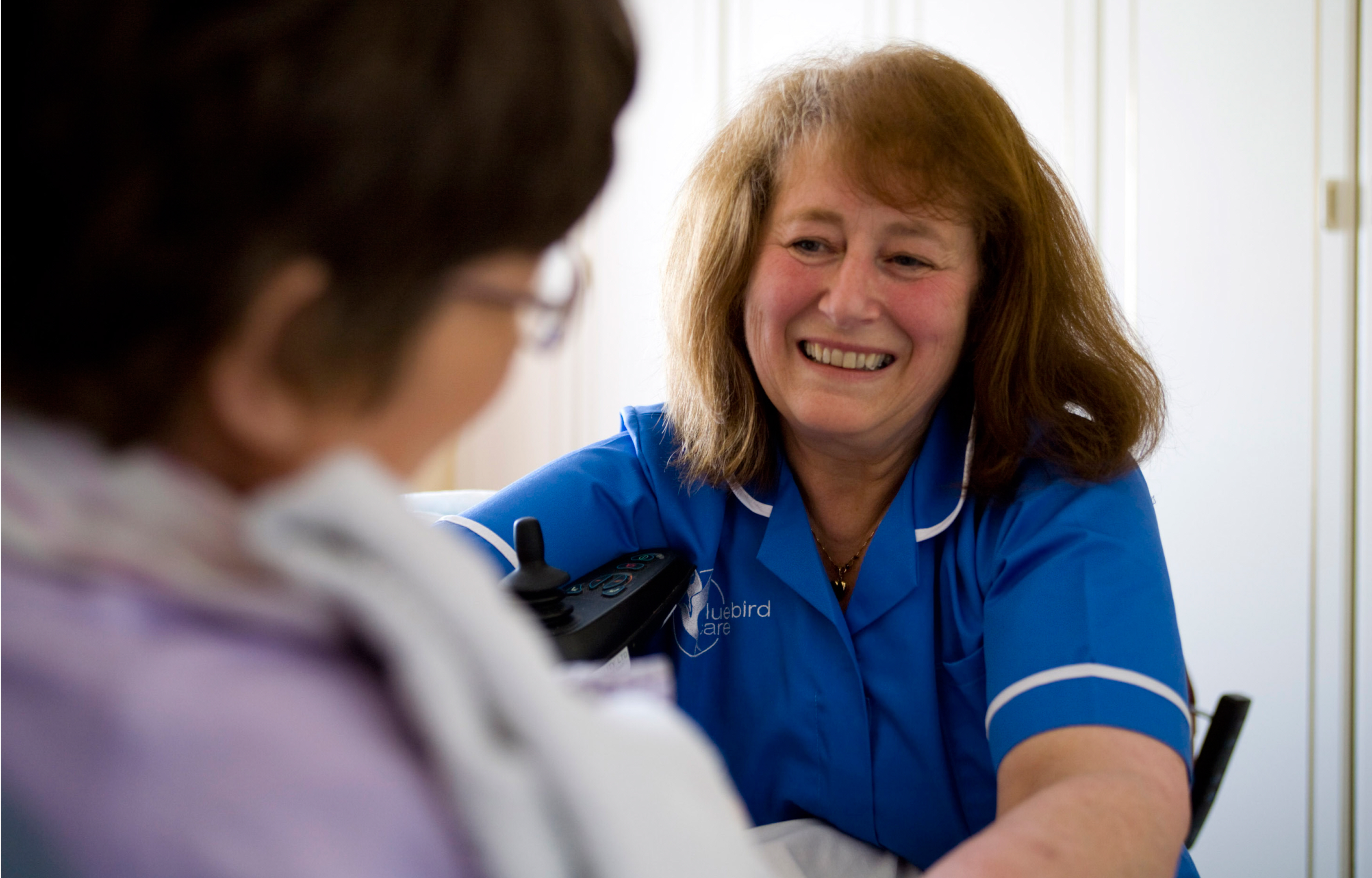 What is the benefit of 24-hour care?
24-hour care offers many advantages, but the greatest benefit may be the ability to personalise the caregiving experience entirely to your own preferences. There are no prescribed meals or predetermined schedules; everything is tailored to happen just as you want it, exactly when you want it with the support of a fully trained carer of the highest quality.
Other advantages of live-in care include:
Peace of mind
Having a carer residing in your home is more than just practicality - it grants comfort, peace of mind and reassurance to both you and your loved ones, knowing that you have a trusted care provider supporting you with a fully managed service.
With their blended expertise in health care together with an affable personality that matches yours, live in carers are able to support people for not only the physical requirements but also emotional needs as well.
A live-in caregiver brings companionship so that someone can truly get to know you while enjoying quality time doing various activities together; giving comprehensive treatment far beyond merely functional assistance alone.
Supporting independence
At Bluebird Care Birmingham West, we firmly believe that you should control your life as much as possible. As such, our live-in carers understand and respect the fact that they are there to support you in every aspect of your life, ultimately enabling you or a loved one to remain independent for longer.
When you're feeling a bit low in spirits, you could choose to spend the day enjoying nature at your local park with your carer and feeding friendly ducks - or alternatively relax indoors by soaking up some culture from watching an uplifting movie while piecing together a challenging jigsaw.
Our care services are designed to keep service users in the comfort of their own homes for as long as possible as a viable alternative to residential care. A live in care package as part of our homecare services provides the benefit of a fully trained carer living with you on your terms.
Keeping customers in their own homes
Our homecare services (also know as domiciliary care) offer individuals the security and familiarity of their own home, allowing them to maintain independence alongside close family members.
Fond memories are kept in place while 24-hour support can be provided - relieving stress for caregivers who may have felt overwhelmed by undertaking all of your needs alone.
Our live in care services are tailored for you providing high quality care and support dependent on your needs. Our care packages are tailored to the individuals care needs.
"24 hours a day" support
Having a live-in carer provides you with the reliable and continuous support you need, so that any periods of time without assistance are eliminated.
Our visiting team work in partnership with your primary carer to guarantee consistency; ensuring routines will be followed according to your preferences for an uninterrupted level of high quality service.
As a leading live in care provider, we also provide support for complex care conditions as and when needed such as support with a stoma, PEG feeding or tracheostomy, so that you can be cared for at home as an alternative to residential care homes.
Overseen by our clinical leads who are trained in terms of nursing care, we will ensure that your live in carer has the right training for the intricacies of your care needs.
With our services, you can enjoy the comfort and convenience of receiving care in your home rather than being uprooted to a nursing home.
What is the live in care cost?
The cost of live in care varies depending on care needs and if specialist care is required. Some individuals may only require one live in carer whilst others may need the support of two live in carers.
At Bluebird Care Birmingham West, our live in care services start from £1,400 a week for a single person and £1,700 a week for a couple.
It is also important to note that should it be applicable, local authority funding may also be available to individuals who require it to fund their care provision.
Contact us today
Rated "GOOD" by the care quality commission (CQC), Bluebird Care Birmingham West are here to support you or a loved one in all aspects of your personal care or specialist care needs.
If you are considering live in care options and would like some further information on how our live in care and home care services can support you in your own home as an alternative to residential care homes, then please reach out to a member of our team today by either emailing us at birminghamwest@bluebirdcare.co.uk or calling us on 0121 803 6787.
How to find the right care for you or your relative
1. Find your local office
Bluebird Care delivers care from locally based offices, find yours to start your care journey today.
2. Get in touch with us
Fill in our call back form or give us a call to find out how we can help you.
3. Assessment
We'll come out to you to find out what you or your loved one needs to help stay independent at home.
4. Care team chosen & care starts
You'll be cared for by our specially trained team to support you to remain at home for as long as possible.