Six Myths About Social Care and the Real Truths Behind Them
Don't believe everything you hear about being a care assistant. Here, we dispel six of the biggest myths about the care industry.
Don't believe everything you hear about being a care assistant. Here, we dispel six of the biggest myths about the care industry.
At our Gosport office, we take a lot of calls from people curious about getting into care as a career but with lots of reservations about making the switch – especially when considering a move from the corporate world.
The funny thing about those conversations is that many of the hang-ups those people have often prove to be about things that aren't even true!
With that in mind, this month we wanted to follow up our blog about the social care crisis and why the industry needs more carers, by looking at some of the biggest myths about social care and the real truths behind them.
Myth 1: Caring is an unskilled job
There is a common perception that caring can be all about either making tea or wiping bums. The real truth about social care, however, is that it's a deeply diverse industry where carers will never experience the same day twice.
From administering sensitive medications or calming down an angry person living with dementia, to giving physical first aid and helping someone experiencing loneliness to find hope and happiness one conversation at a time, caring requires equal parts compassion and knowhow. At Bluebird Care, all of our new carers go through extensive workshops and get to shadow experienced carers before they go out on their first calls. Caring is a highly-skilled role for incredibly special, big-hearted people, and the training we give reflects that fact.
Myth 2: Care jobs are poorly paid and you work all hours
At Bluebird Care Gosport (and indeed, other Bluebird Care branches too), we believe that to care for our customers, our staff have to feel cared about too. That starts with a basic salary of £10.50 an hour on weekdays and £11.50 an hour at weekends. That's far above the national minimum wage of £8.91.
We also don't pay younger carers any less than older ones. The national minimum wage may drop to £8.36 for 21-22 year-olds, and £6.56 for those as young as 18, but one of the key facts about social care at Bluebird Care Gosport is that we treat all of our carers equally.
It's also a sizeable misnomer to say our carers work all hours on zero-hours contracts. While we do offer those (and in fact, they prove quite popular), we also offer guaranteed hours contracts too! Either way, we do everything we can to make sure the hours we offer match the availability you've given us. And while there are often opportunities to pick up extra shifts either way, there's never an obligation to do so if you aren't able to.
Myth 3: There's no career progression in the care industry
Another of the biggest myths about social care work is that there's no real way to progress in your career; once a carer, you're always a carer. That would make sense if the idea that caring is a badly-paid and low-skilled vocation were true. But as we've already established, that's not the case at all. So you'll be heartened to know that there is indeed a direct and well-trodden career path for anyone who wants to take it.
Indeed, when you call our office in Gosport, you'll find that our admin team, coordinators and more will all be able to tell you exactly what you'd be doing in your first days and weeks as a carer. That's because they started there themselves, then climbed the care career ladder by taking on qualifications like NVQs in social care.
In fact, as we outlined in our recent social care crisis blog, our office staff often still go out on care calls when we need to cover staff absences for things like sickness. We're very much like a family at Bluebird Care, and that's something we're very proud of.
Myth 4: The perks are poor – you don't get paid to travel, and even have to pay your own petrol
We hear this one a lot, and we're delighted to say it isn't true either – as just a quick glance at our open carer roles will tell you. Not only will we pay your £9 an hour for your travel time and £0.35 for every mile you travel between calls, but we also offer:
Health insurance
A company mobile phone
Paid-for qualifications
Paid induction training
And we'll even pay for your MOT
Plus a company pension, and a £200 referral fee if you recommend someone who ends up joining the team.
On top of that, we have regular social get-togethers for our team where you'll make friends for life. You even get your birthday off work!
We can't speak for every brand in the care industry, but the real truth about social care at Bluebird Care Gosport is that the perks are, like our salary and career progression, designed to make our carers feel like they're cared about. Because they absolutely are!
Myth 5: Care assistants are all middle-aged or older
Another of the biggest myths about social care work is that it's full of reasonably old people looking after even older people.
But one of the key facts about social care is that if you're in your twenties or thirties, whichever branch or care provider you join, you're likely to meet others around your age too. We even have 18 and 19-year-olds join us more often than you'd think!
However young or old you are, there's a place for you in care at Bluebird Care.
But don't take our word for it. In the video below, Cardiff South Bluebird Shannen talks openly about her life after switching from being an air stewardess to pursuing a career in care.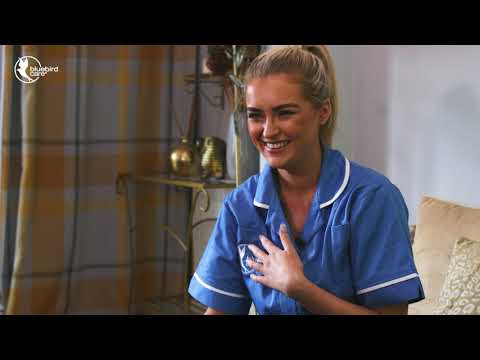 Myth 6: People who need it can get care instantly
We wish this were true. We really do. But at the moment, it's sadly simply not the case.
As mentioned in our piece on the social care crisis, carer providers across Britain are currently facing long waiting lists for people who need care but can't find it.
It's a heart-breaking situation caused by the shift in focus from care homes to care-at-home after the pandemic, coupled with simply not having enough carers to meet demand.
The real truth about social care right now is the entire sector needs more people. Thankfully if you choose to make the switch, you'll find an incredibly rewarding and fulfilling career where you can develop your skills and qualifications; enjoy the rewards of real career progression; plus make dear friends and have heartfelt experiences that no other profession could come close to giving you.
Considering a career in care?
If that sounds like it might be for you, visit our careers page or get in touch with us today to find out more. We'd absolutely love to hear from you.
Related posts