Testimonials & case studies
At Bluebird Care Edinburgh we offer a personal, professional service to you and your family. We are determined to deliver the best possible care for every single person and are delighted when we receive positive feedback from our customers, their families and friends.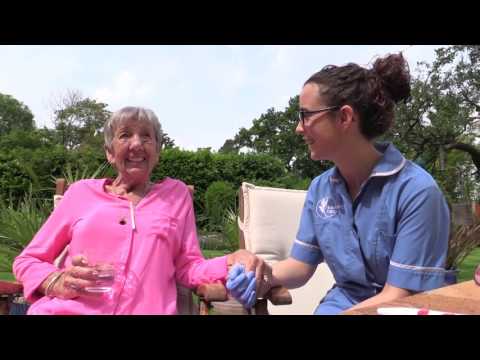 Showing results 1 - 8 (of 23)
August 2020:
Many, many thanks for all the wonderful care you gave to P E over the last few months.
It meant so much to her family to know that she had such professional and empathetic carers during a difficult time.
We won't forget you, all the best J & A
Sally my very grateful thanks for the immediate help that you gave to Renata this past week so that she could administer medication to me. She said to me that she did not have any one else who was suffering as I was and really this surprised me as I thought wrongly that this was as bad as you had to be before getting help. My brother tells me that I waited far too long before asking for help in the first place. I was brought up to believe that you just had to get on with things no matter how bad. All of you have proved to me that this is not so. My doctor had prescribed for me, along with the 2Omicrogrm pain patches, a bottle of liquid morphine and my reaction to that was to put the bottle on a high shelf and not use it. it was only when the pain in my lower back. My knees and the front of my legs was so bad and would not go away that I realised I needed to get more help. The pain was next to unbearable and I couldn't pretend any more. The speed with which you operated was wonderful along with the professional way in which you reacted. It has been an amazing discovery that I have made and I realise that there have been many times in my life that I have made life so much harder for myself. Indeed I have actually neglected myself. It has taken a long time until now to realise that perhaps the degree of my suffering is so because of not saying how bad it was a fair time ago. Thanks to Renata, I now know differently!
I also need to say that my opinion of Renata's skills were always high. She has a wonderful insight into people's needs and already, some time ago, she also said to me that she did not care for anybody else who was suffering as I was. I will never be thankful enough for her care and professionalism and I hope that I really will have learned to consider myself a bit more. You are a specially good care company and I bless the day that I found out about you from H McD. To me also, Renata is a friend as well as being such a competent carer, someone who will always be in my memory.
Finally, I must state that every carer who has been here for me has been a pleasure to have in my home, yourself included.
Every good wish to all of you, B McG.

We want to put on record in the strongest terms that we have been delighted with Bluebird and, in particular, with Jo. We very much consider she has become a friend of the family and has given Dad much pleasure with their walks, visits and company. She also has kept us informed when she visits, which has been invaluable as an extra pair of eyes on dad's health. Well done to all concerned.
My 94-year-old mum lives on her own and her successful independent lifestyle is due, in no small measure, to the care, support and TLC provided by her two Bluebird Carers who visit three times a week. The carers are extremely professional but also personable and friendly and Mum really looks forward to their visits.
We would also like to take this opportunity to thank you all at Bluebird; for your advice to us both in the early days; and for the help, emotional support and care delivered by your team to Mum and Dad over the past 3 years. We are most grateful that the Bluebird caring hand has never been too far away!
Please accept our thanks and pass them on to Mr & Mrs Perry, and all the staff, both administrative and hands-on carers in E's home for their patience and professionalism. The service you all provided in challenging circumstances was excellent and the way you cared for E and also looked after us, has been appreciated.
Bluebird Care have been excellent. The carers are courteous, polite and efficient."
L.F. is perfect, she has a lovely manor very attentive, kind, good and easy to talk to. Bluebird Care is first class and has been over the many years I have used them.